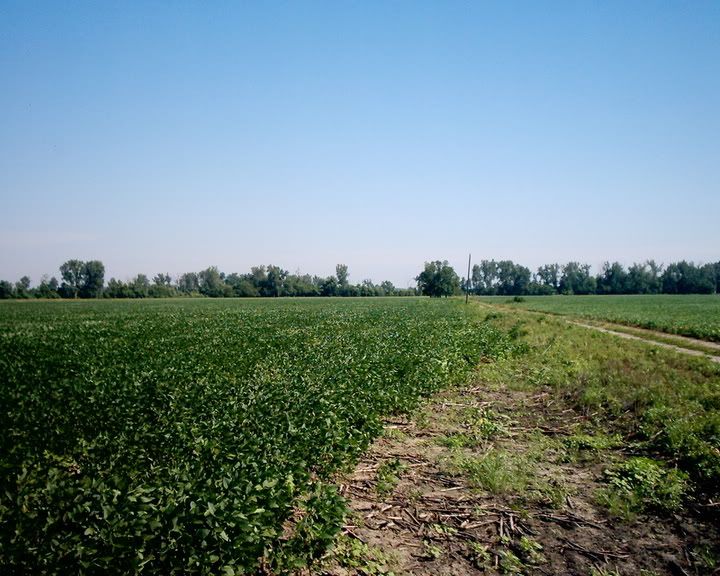 This picture was taken near the Missouri River, where I often ride my horse. There's a story here if you look closely. Can you see the telephone pole, to the right of center? And the tree (or trees) just beyond it? Cliff's brother, Phil, used to live there.
Like Cliff and I, he had a dream, back around 1970, of getting out of the city and owning a little place in the country. He got what he felt was a great buy on this river bottom ground. There was an old barn there then, nothing more. He and his wife shopped around and found a double-wide mobile home for the place, and moved in with their two boys. A dream come true, obviously.
Until the flood. I'm not sure what year it was, but it must have been the early 70's. It was one of those years when one flood followed another: Phil and Faye would find someplace to stay while their access road and yard became a body of water, then go home when the river went down. But finally the big one came and swept their home away.
They could spend years paying off a mobile home that no longer existed, or take bankruptcy; they chose the latter. They then found a country place to rent in the same school district, drove old cars for a while until their good credit record was restored, and finally bought a house in a nearby mid-sized town, which they eventually sold, and bought another, nicer house. Little by little over the years, as their boys grew (and they had two more), they pulled themselves back to the point where they had been before the flood wiped them out.
Now Phil's retired, and he has a lovely 100-acre place about a half-hour from here. He dabbles in selling real estate, sort of a sideline in his retirement. He has cattle (in fact, he's the owner of the bull we borrow for our cows).
He's a perfect example of how, with patience, if you keep your dream alive, you can come out the winner even after the most devastating loss. And every time I ride Blue down near the place where Phil's dreams were shattered, I'm reminded to never give up. There's a poem by John Burroughs that I've loved since I was a child, entitled Waiting:
Serene, I fold my hands and wait,
Nor care for wind nor tide nor sea;
I rave no more 'gainst time or fate,
For lo! my own shall come to me.
I stay my haste, I make delays--
For what avails this eager pace?
I stand amid the eternal ways
And what is mine shall know my face.

Asleep, awake, by night or day,
The friends I seek are seeking me;
No wind can drive my bark astray
Nor change the tide of destiny.

What matter if I stand alone?
I wait with joy the coming years.
My heart shall reap where it has sown,
And garner up its fruit of tears.

The waters know their own, and draw
The brook that springs in yonder height;
So flows the good with equal law
Unto the soul of pure delight.

The stars come nightly to the sky;
The tidal wave unto the sea;
Nor time, nor space, nor deep, nor high,
Can keep my own away from me.