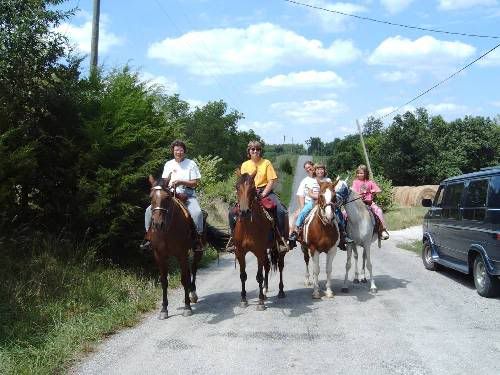 See the horse on the far right, the one my granddaughter, Natalie, is riding? That horse is for sale for $900. And here I sit, like a fool, trying to figure out how I could come up with the money to buy that horse. He's registered Arabian; not the prettiest animal I ever saw, but he seems to be pretty trustworthy and dependable, for a five-year-old gelding. My sister-in-law comes to ride, and so does my daughter. Natalie is beginning to have a strong interest in horses. It would be nice to have two horses so two people could ride together.
Of course I have to remind myself: that would mean another saddle and double the farrier bill. It wouldn't just end with buying the horse. Here's another shot: it's the horse in back.
Of course it isn't practical at all, and I'll stop thinking about it.
Still... I can't help but wonder....