We only lived in that dinky apartment in Harlem for a few months. The same landlords had an old house up the street that we rented (back to an outhouse). Our next move was across the road, to a house WITH indoor plumbing (even hot water and a bathtub) and for the first time in their lives, my parents became home-owners... unless you count the five months or so they tried farming in 1944, the year I was born.
You'd step out the front door, walk south on Harlem Road about half a block, and be at the stone levee. There were two bridges in close proximity to us, the nearest one being the ASB Bridge I wrote about yesterday. If a barge needed to go under it, they'd whistle or toot, and the bottom part of the bridge would slowly lift to let them through. We children would go running to the top of the levee to watch, when we heard that horn blast.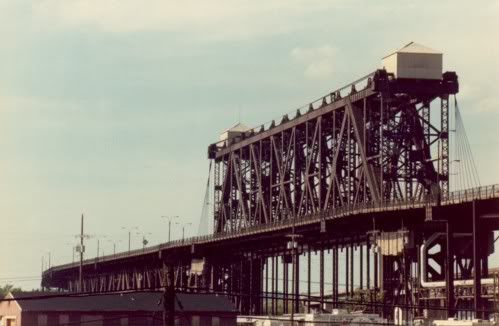 Cars went across the top part, trains on the bottom; only train traffic was interupted by the barges passing below. This shot, by the way, is taken from across the river from Harlem; it's the best I could find on the Internet.
Now, the other bridge had quite a history: The Hannibal Bridge, built in 1869, was the first ever to span the Missouri River. When barges had to pass beneath this one, it actually had to swing open like a gate to let them through.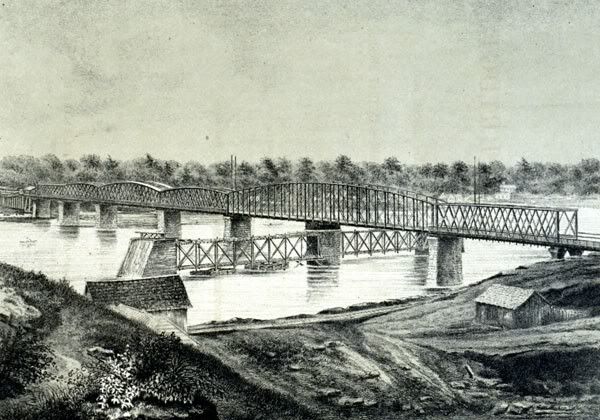 At the north end of the Hannibal Bridge was another one of my favorite playgrounds... the Municipal Airport.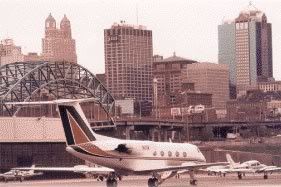 My cousins and I would wander through the lobby and pick up brochures that told of exotic places where only rich people traveled. We'd go up to the observation deck and watch planes landing and taking off. There was one minor problem at the airport: the rest rooms had pay-toilets; coins had to be deposited to unlock the stall doors. This was no more than a minor inconvenience for us, though. We'd wait until there was nobody else in the rest room, and one of us would crawl under a stall door, use the facility, and let the others in as we exited. I believe I was usually (perhaps always) the brave soul who crawled under. I've always been less finicky than most folks about things such as crawling on my belly on public rest room floors.