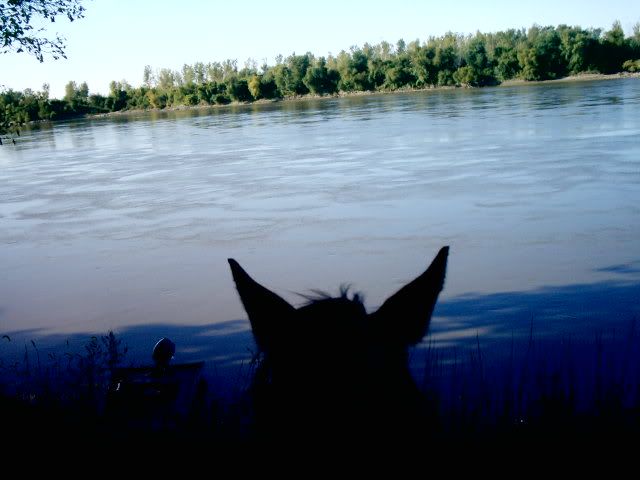 I took this picture yesterday around 5 PM at the Corps of Engineers park nearby. I've been leaving for a ride at 2:30 PM, when my husband leaves for work. He's started calling me from work on his break to make sure I make it home OK. Blue has never put me at risk when we ride, but I guess there's always that possibility.
While surfing this morning, I found an article about a fellow who loves the Missouri River as I do; if you're interested, here it is: http://www.missoulian.com/specials/followh2o/h2o05.html
I wish I had this guy's e-mail, I'd love to chat with him.
Wish me luck today: I'm going to pick up my knee brace, and we'll find out whether it will help me at work tomorrow, when I return to the daily grind. Actually, I'm anxious to get back to work, so I'm really hoping and praying this is the solution. If not, my next move will be to schedule arthroscopy.
Here's something I read about on one of my "horsie" message boards that sounds like it would be such GREAT fun; but I wouldn't want to do it by myself. Still, I'm keeping it in mind, perhaps for next year. http://www.angelfire.com/mo3/longviewhorsepark/happytrails.html