I was scrounging around in the freezer and found a nice, meaty bone from last Easter's ham. So I soaked some beans overnight and they're cooking this morning. I figured this was a good weekend for such a meal: It's cool and crisp (the high today is supposed to only be 61 degrees), and if my daughter's family shows up for a meal, I'm prepared. My son's family arrives next Thursday; he's never been a big fan of beans, so my timing is good, I believe... the beans should be long gone before he gets here, as well as the after-effects! I'm hoping for decent weather next weekend: Our little town's fair will be going on, and it'll be the first time my son's been here for that since he was 17.
The thirteen-year-old twins next door are home-schooled; they get up early to do their lessons so they can come and spend the day with Cliff in his shop or in the field. Their mom counts their time over here as a credit when she turns in their home-school paperwork. They're great company for Cliff. They supply their own lunch, but they like to come in the house and eat with Cliff. This takes some getting used to on my part, while I'm off work. They chatter constantly. But Cliff enjoys them so much that I'm learning to put up with the invasion. They do have great senses of humor, and Travis is quite a mimic; he does an imitation of my grandson, Arick, that cracks me up. Here they are, working on a flat-bed trailor for their garden tractor: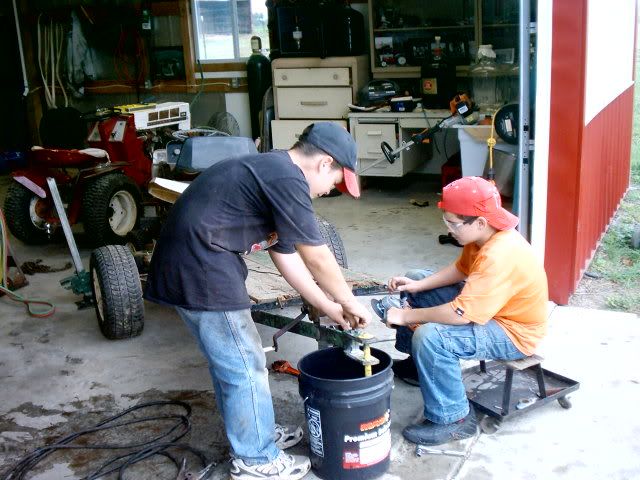 Cliff lets them work on their projects without interference, unless he sees them being unsafe, or getting into trouble with something. He advises, but if they don't heed the advice (as long as they're not being unsafe) he lets them make their own mistakes. He calls them "my boys", or "my little buddies". When these guys discover girls, Cliff's going to miss them.