Cliff's been trying to walk at least three days a week, trying to get in shape. He and I used to walk three to four miles a day together, and it was a good bonding time. We've walked off and on for exercise since 1980. But with my knee pain, there's no way I can accompany him now. Of course, I'm usually at work anyhow, but I'm sidelined at present. I hate to see him head off down the road alone. Yesterday I found the remedy for this problem. I quickly tossed the saddle on Blue and caught up with Cliff. I'd ride ahead and then ride back... let Blue graze a bit... visit with Cliff, etc. And on our return, I pulled in behind Cliff with Blue's head just behind his left shoulder, and we followed him all the way. I love that horse (and my husband too, of course).
Yesterday evening I went back to "the point". I don't know why we call that area of our pasture by that name, but it's where I take my quilt and my dog and just soak in the peace-and-quiet. You can look down over the river bottom from there and see where I often ride Blue.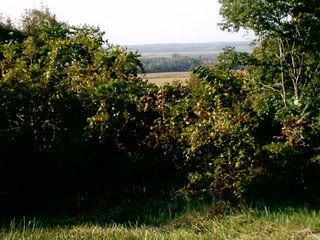 If you can make out the green strip in the middle of the golden field of ready-to-harvest corn, that's the levee along which I ride so often. The hills in the distance are on the other side of the Missouri River.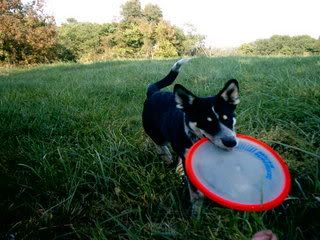 I took books, as usual. And I remembered to take Mandy's Frisbee. She's doing pretty well carrying it back to me; I'm working on getting her to drop it when she reaches me, though. She'd rather have a tug-of-war... it's much more fun for her.
After all her exploring the edges of the woods and chasing the Frisbee, she was pooped. Next time I go, I'll remember to take a drink for her. Doesn't she look thirsty?