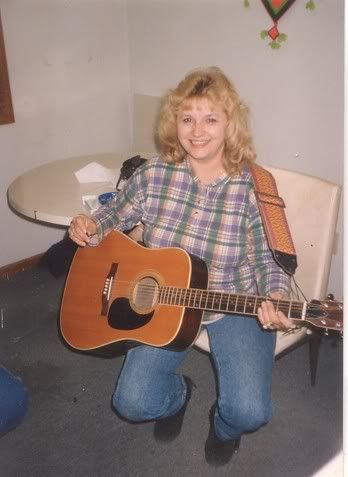 If I COULD HEAR LEONA SING AGAIN

Donna Wood, August 8, 1995
'Way back in my younger days a bunch of us would sing and play,
We'd gather once a week in someone's home.
With one banjo and five guitars, we all thought we were singing stars:
We took turns working on our golden tones.
Those were times I can't forget. My boyfriend played guitar like Chet,
And I would harmonize with all my friends.
We laughed and sang and had a ball; but one sweet voice outshone them all…
Oh, if I could hear Leona sing again.
Lordy, how that girl could sing; her voice would make the rafters ring,
And I was blessed to have her for a friend.
I was just a foolish kid. I prayed to sing the way she did,
Oh, if I could hear Leona sing again!
She'd sing, "I done sold the farm", and I'd have given my left arm
If I could just have sung it half as well.
Another song I still think of: Together, we'd sing "Bye Bye Love"
And let that country music weave its spell.
The years that passed are twenty-nine; they tell me you can't turn back time,
But how I'd love to open that old door.
I'd shut my mouth and let her sing; I'll bet she'd still make rafters ring
If I could hear Leona sing once more.
I wondered why she didn't go down to the Grand Ole Opry show,
Cause she was just as good as all of them.
I pray that I don't leave this world till I've once more heard that gifted girl…
How I'd love to hear Leona sing again!

Rest in peace, Lee. You weren't even 55. I only wish we could have sung together one more time.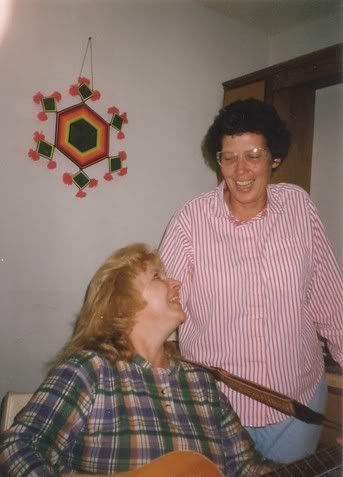 These pictures were taken 10 years ago, the only time I saw Leona after 1967, I believe. I had written the above song about her and sent the tape to her mom and dad; when she was here visiting from Illinois shortly after that, we briefly got together. This is a person that I really never spent a lot of time with... we just shared a lot of jam sessions, back when I was single... but I feel there's a huge hole in my life now that she's gone. Isn't that strange? She was always an outrageously funny person, living on the edge. I can't believe she's gone. Dear Lord, it makes me so sad.